The University of Alabama Police Department operates under four primary divisions:  Operations (sworn and non-sworn), Support, Administrative, and Investigative. Each division is commanded by a police command staff officer who reports to the Chief of Police. These divisions provide overall command for all daily operations.  Each Operations Section, Sworn and non-Sworn Operations Branch, The Support Branch, The Administrative Branch, and The Investigative Branch are all commanded by an Assistant Chief of Police.
The Operations Section consists of all uniformed patrol and community officers, the Traffic Division, Police Communications Division, and the Security Resources Division.  The Operations Section is tasked with the general safety and security for campus and all members that make up the University community.
The Sworn Operations Branch is responsible for the supervision of General Patrol, Community Patrol, Traffic Unit, Event Planning, and the UAPD K-9 Program.
The Non-Sworn Operations Branch is responsible for the supervision of the Security Division and the Police Communications Division.
The Support Division is tasked with the responsibility of overseeing the Investigative Branch and the Administrative Branch.
The Administrative Branch is tasked with supervising the Community Relations, Emergency Preparedness, Training, Professional Standards and Accreditation, Personnel Development and the Evidence Custodian/Logistician.
The Investigative Branch is tasked with the responsibility of Criminal Investigations, Behavioral Intervention, Internal Affairs, Threat Assessment, Tuscaloosa County Task Force Units coordination, and the Joint Electronic Crimes Task Force.
Communications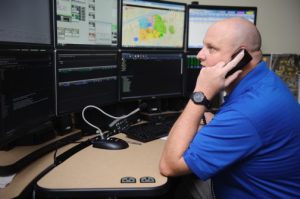 Police Communications serves as the information center for the department.  Staffed 24 hours a day, 7 days a week, the trained professionals in our Communications Division coordinate emergency and non-emergency responses to campus and the area immediately surrounding campus, whether by Law Enforcement, Fire or Medical personnel, with the use of Computer-Aided Dispatching.  In addition, our Communications Operators receive direct calls from the emergency "blue phones" located around campus, as well as alerts from the Rave Guardian app. You can reach our communications office at (205) 348-5454.
 Community Relations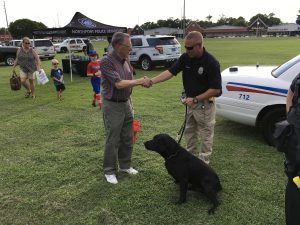 Community Relations directs its efforts toward reducing criminal opportunity through educational programming and crime prevention activities. Crime prevention programming is provided to housing and residential communities, Greek organizations and the university community at large. The Community Services Officers assist with the public information function, informing the public about the occurrence of crime on campus. Additional functions include crime analysis and Clery reporting to the federal government. The Safer Living Guide, a reference guide to University safety and contact information, is a product of the Office of Community Services. For more information about UAPD, please contact the Community Relations Officer at 348-8361.
Community Oriented Policing (COP)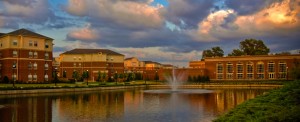 Community Oriented Policing is a philosophy of full-service, personalized policing where the same officer is assigned to a specific geographical area on a permanent basis, working in a proactive partnership with citizens to identify and solve problems. Officers work out of satellite offices located within the communities they serve. The focus of community oriented policing is not simply on responding to crime, but on preventing crime and resolving community problems. 
Educational Programming
Community Oriented Police Officers offer a variety of programs in their respective areas. If you would like to schedule a program for your group or residential area or desire more information about a particular topic, contact your area Community Oriented Police Officer.
A variety of educational programs are offered at a community level by the police department.  Common program topics include the following:
Personal Safety
Operation ID
Alcohol Awareness
Drug Awareness
Conflict Resolution
New Student Orientation
Internal Affairs
The Internal Affairs function is responsible for overseeing the investigation of all complaints against departmental personnel. The department holds its employees to the highest professional standards and vigorously investigates any allegations of employee malfeasance or misconduct. Internal Affairs also makes policy and training recommendations based on analysis of complaints.
Criminal Investigation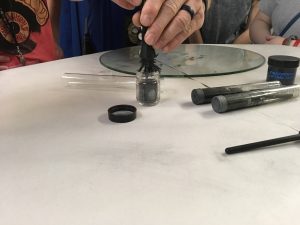 The criminal investigation unit is responsible for the follow-up investigations of all criminal offenses occurring on university-owned or leased property. University Police also assign investigators to two multi-agency task forces: the West Alabama Narcotics Task Force (WANTF) and the Tuscaloosa Metro Violent Crimes Unit (Homicide Unit).
Network Systems Administration
Network systems administration is responsible for overseeing and maintaining departmental computer systems, including the department's records management system, computer-aided dispatch system, digital voice recording system, and state and national crime computer link. Network systems administration provides analysis of data to assist in management decisions and reports crime statistics to state and federal government.
UAPD K-9 UNIT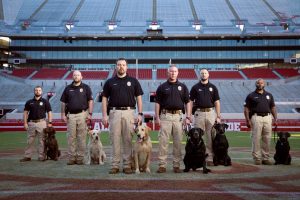 The University of Alabama Police Department currently maintains an explosives detection dog unit that work diligently to provide a safe environment at venues both on and off campus. This Unit trains weekly to assure that they provide the highest quality of service to the community.  This unit performs a variety of community relations functions, and supplement general patrol operations.
Patrol Division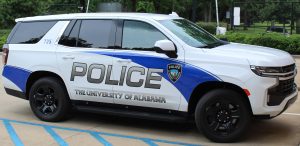 The purpose of the Patrol Division is to provide a high standard of public safety and assistance twenty-four hours a day for the protection of the University Community. Patrol officers provide a wide variety of law enforcement services including responding to calls for service, writing reports, conducting preliminary investigations, and providing security to the university property. These responsibilities are achieved in a variety of methods including foot patrol, bike patrol, ATV's, and a fleet of marked patrol units.
Traffic Division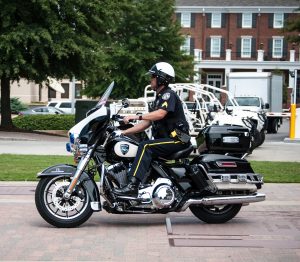 The University of Alabama Police Department Traffic Unit is responsible for traffic accident investigations and reporting, investigating hit-and-run accidents, special escorts, and the enforcement of state and local traffic laws.  Traffic unit officers ride Harley-Davidson FLHTP Electra Glide Motorcycles.
The University of Alabama Police Department's Traffic Division is tasked with the following responsibilities:
Responding to and investigation of traffic accidents
The enforcement of state and local traffic laws
Escorts
Support of Patrol Division
Professional Training
Professional training is a high priority with the University of Alabama Police Department. Annual training in law updates, force issues, first aid, investigation techniques and many other areas are conducted by both departmental and outside personnel. The training is always directed toward providing officers the most up-to-date techniques and knowledge to effectively provide quality service to the University community.
Officers may also receive specialized training in:
Criminal investigation including crime scene processing
Interview Techniques
Defensive driving
Firearms
Defensive tactics
Accident investigation
Street officer response to narcotics
Training instructor certification opportunities
Security Resources
Security Resources is a 24/7 operation that focuses on providing and maintaining an environment of safety for the campus community and safeguarding property.  Security Resources also combines dedicated field patrol with the utilization of integrated security systems.  Central Monitoring, the hub of Security Resources, monitors cameras and access control throughout campus.  Since its genesis, Security Resources has expanded to become the University of Alabama Police Department's second largest division, with over forty-five trained, unarmed security personnel.